Everyone is always gushing over the "Golden Hour" (the sliver of time just after sunrise or just before sunset), but we think the glow from holiday lights displays is much more flattering.
Here are seven of our favorite outdoor holiday extravaganzas around central Ohio!
Columbus Zoo & Aquarium Wildlights
When: Now- January 6, 2019  
Where: Columbus Zoo and Aquarium
Rated one of the 10 most spectacular light shows across America by MSN, the Zoo truly transforms into a holiday wonderland for all ages.
More info
Gardens Aglow
When: Now- January 2, 2019
Where: Franklin Park Conservatory and Botanical Gardens
The flowers get some shine, as well as the multiple gingerbread homes on display.
More info
Columbus Commons Holiday Lights
When: Now- January 2, 2019
Where: Columbus Commons
Enjoy more than 400,000 festive lights at Columbus Commons every day from dusk until to 11 pm.
To sweeten the deal, Fridays in December (12/07, 12/14, 12/21) will be a little extra festive, with free hot chocolate, carousel rides, and music of the season.
More info
BROUGHT TO YOU BY
Chinese Lantern Festival
When: Now- January 6, 2019
Where: Expo Center
DRAGON LIGHTS COLUMBUS is at the Natural Resources Park in Ohio Expo Center with brand new light sculptures, exciting performances, fun and cultural experience!
More info
Holiday Hop and Tree Lighting
When: December 1 from noon- 9pm
Where: Short North
Holiday Hop is a celebrated tradition, featuring street performers, decorated retail windows, lights, and of course, holiday cheer. See the District Tree Lighting in Poplar Park at 6:00pm with hosts Nina West and NBC4's Monica Day, a performance by the Columbus Gay Men's Chorus, get cookies from C. Kreuger's, take a photo with Santa, and so much more!
HolidayVille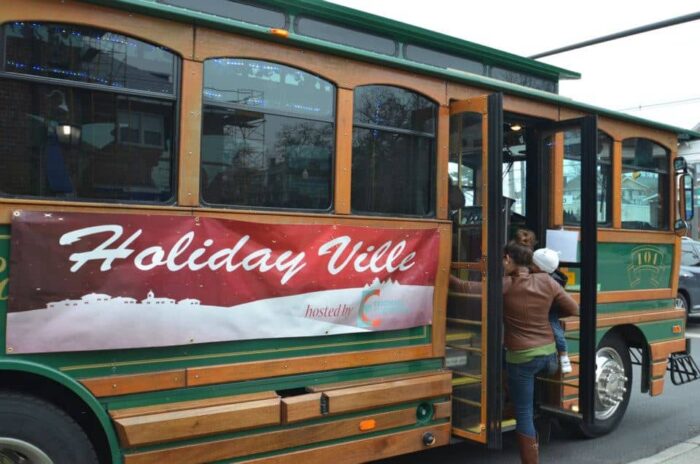 When: December 2 from 12- 4pm
Where: Clintonville
The neighborhood-wide holiday shopping event features carolers, cookies, and shopping.
Hop aboard the Jolley Trolley—your personal chauffeur for the day!
Learn more
Village Lights 2018
When: December 2 from 5- 9pm
Where: German Village
Visit the historic streets of German Village to discover a world of lights and holiday magic.
Follow the luminaries from shop to shop (special extended hours) as you begin checking off your holiday gift list and swing through StrietzelMarkt on the Platz for Mr. & Mrs. Claus, ice carving, live music, mulled wine and more.
Learn more